Inventory
2017 Polaris 600 RUSH® PRO-S
2017 Polaris 600 RUSH® PRO-S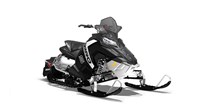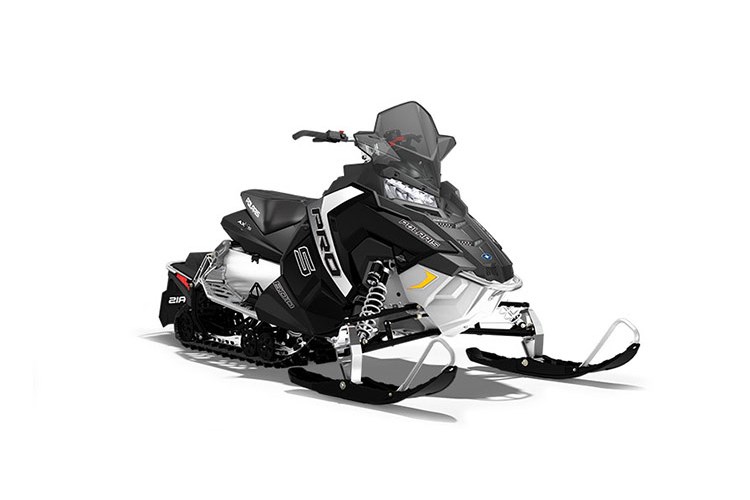 Specifications
ENGINE & DRIVETRAIN
Disc Brake Type
AXYS™ Radial
Drive System Type
Chaincase
Drive/Driven Clutch
P-85 / TEAM® LWT
Fuel System
Cleanfire® Injection
Engine Type/Cooling
Liquid Cooled
Cylinders-Displacement (cc)
2 - 599
Bore x Stroke (mm)
77.25 x 64
SUSPENSION
Front Shocks
Walker Evans® Comp. Adj. Piggyback Needle
Front Suspension
AXYS® Front Suspension
Front Track Shock
Walker Evans® Comp. Adj. Piggyback
Front Travel (in./cm.)
9.3 / 23.6
Rear Track Shock
Walker Evans® Comp. Adj. Piggyback Needle
Rear Travel (in./cm.)
13.6 / 34.5
Track Width/Length/Height (in.)
15 x 120 x 1.25 Ripsaw II
DIMENSIONS
Fuel Capacity (Litres)
12 / 45.4
Overall Height (in./mm.)
46 / 116.8
Overall Width (in./mm.)
47 / 119.4
Ski Center Distance (in./cm.)
42.5 / 108
Estimated Dry Weight (pounds/kg)
432 / 196
Overall Length (in./mm.)
114 / 289.6
KEY ITEMS
Color / Graphics
Black Pearl
Electric Start
Option / Accessory
Hand & Thumb Warmers
Standard Adjustable
Heated Passenger Grips
N/A
Rear Rack/Tow Hitch
Accessory
Seat Type
AXYS™ Performance
Security System
Option / Accessory
Temp/Low Oil Light
High Temp/Low Oil Light
Windshield
AXYS® Mid Smoke
Handlebar Type
One Piece Hooked
Riser Type
2.36" (60mm) Fixed
Features
RIDER BALANCED CONTROL
AXYS® Chassis The AXYS® chassis features 93% new parts, including a carbon-fiber overstructure and aluminum handlebars on SnowCheck Select or Limited Edition models and an aluminum overstructure on standard models. The chassis structure and design makes it possible to change the rider positioning, centralize vehicle mass, redesign the rear suspension, add more power, remove weight, and evolve the rider's riding experience. In short, it is the key to delivering rider-balanced control, unrivaled acceleration, and rider-centric comfort.
Rider Balanced Control Rider Balanced Control gives the rider: - Flatter cornering without sacrificing the fun factor - More precise handling in all conditions - Better control in big bumps AND chatter bumps How did we get there? Polaris: 3. Put the rider in the right location on the sled. 2. Centralized vehicle mass. 1. Optimized the suspension geometry to better control pitch.
Rider Balanced Positioning On the AXYS® chassis, the rider is moved forward to a more balanced position. The rider's hands are moved 4.5" forward, the feet are 2" forward, the knees are 4.5" forward, and the seat is 4.5" forward. In the neutral riding position, the AXYS® platform provides bite for flatter, positive cornering. When the trail gets rough or the rider jumps off into the powder, rider balance enables the rider to move back and make the front end light to climb up on top of the snow or the moguls.
PRO-XC™ Rear Suspension The completely redesigned geometry of the PRO-XC progressive-rate rear suspension is optimized for the best performance and Rider-Balanced Control. Through innovative Polaris engineering and construction, the suspension is both lighter and stronger, featuring: - Lightweight, forged aluminum rear crank. - Completely redesigned crank and pivot. - Front torque arm was moved rearward to control pitch, increase travel, and improve the rail profile.
Active Pitch Control™ The PRO-XC™ suspension delivers Active Pitch Control™ which controls the pitch by suspension geometry and not simply by a high spring rate. This makes the sled less sensitive to adjustment while allowing optimal weight transfer.
UNRIVALED ACCELERATION
Lightweight When developing the AXYS® platform, Polaris engineers minimized weight throughout the sled without compromising strength. The 600 RUSH PRO-S is more than 30 pounds lighter than the previous chassis and weighs at least 30 lb. less than a competitive trail performance model.
600 Cleanfire® Engine This liquid-cooled Cleanfire® engine with semi-direct injection (SDI) deliver outstanding throttle response and instant acceleration. These powerful, efficient engines start easily and reliably and they calibrate automatically as the temperature and elevation change. These engines deliver impressive fuel economy in real-world riding situations, which, for Polaris riders, means aggressive, up-tempo riding, not low-rev lab conditions. Now in the AXYS® chassis, the 600 engine features new lightweight integrated mounts, electronic oil pump and bypass thermostat.
Electronic Oil Pump Electronic oil pump eliminates power-robbing gear drive – and provides more precise, improved oil delivery for performance and durability as well as a 35% reduction in throttle effort. Requires no adjustments.
RIDER CENTRIC COMFORT
AXYS® Performance Seat The AXYS® Performance seat utilizes a high-performance seat foam, and the seat design is narrower in front to provide greater maneuverability. - The seat is lighter without compromising comfort - Improved ergonomics and stability - Seat top features a gripper material that helps keep the rider in place.
Interactive Digital Display Another industry first for Polaris - the most advanced instrumentation in snowmobiling. This 4.3" high resolution, full color, LCD digital display provides a rider with information including: - Sled performance: Speedometer, tachometer, dual tripmeters, average speed, max speed, engine/trip hours & odometer - Sled operating conditions: Fuel level, coolant temperature, diagnostics & maintenance warnings - Riding conditions: Air temperature, time of day in 12 or 24-hour clock format - Bluetooth™ functionality: Enables the gauge to communicate with the rider's cell phone and provide notification of incoming calls or texts. Displays phone battery & signal strength - GPS/Mapping Capability: A compass is standard, & full-featured GPS can be installed to provide directions & information about services such as fuel, restaurants, lodging & Polaris dealerships. Customize the GPS to operate with North Up or Course Up navigation depending on your preference - NEW Ride Planning Feature enables you to plan a ride on RiderX, save it as a GPX file, and transfer it to the display through the USB interface This gauge comes as an option on select SnowCheck models and is also available as an accessory option.
Left-Hand Controls The left-hand controls feature improved ergonomics, updated styling, and enhanced hand and thumb warmer control. The controls are easy to operate with gloves on, and have an improved tactile feel.
LED Lights All models built on the AXYS® platform feature standard LED headlights. LED headlights deliver the industry's best lighting: - Nearly 1 lb. lighter and high beams are 80% brighter than incandescent lighting. - Color temperature or output of the lights (the "whiteness" of light, reported in Kelvin) is 5000K, closely matching daylight. - LED headlights last the entire lifetime of the sled. A major durability enhancement over traditional incandescent headlights which experience filament burn out. - For constant visibility and enhanced safety, the low beams remain on at all times. Even when the high beam is activated, there is never a period of no light.
Wind Protection The hood and windshield designs produce significantly enhanced wind protection for a rider, and the foil on the side panels further enhances protection.
Integrated Storage Storage was designed and developed right along with the AXYS platform, so it installs securely and features seamless, integrated styling that matches the sled's design lines. - Compression-molded materials provide semi-rigid storage and enhanced styling - Sturdier zippers provide better cargo security and protection - Installs without tools
Premium Fit & Finish Interfacing surfaces between body panels and components are shorter for minimized gaps - Interfaces are strategically located in recessed areas - Styling of storage elements results in clean, integrated lines - Components are engineered for functionality and styled for the best styling
PRO-S Set-up (Tracks, Shocks) Delivers the ultimate cornering and handling, the flattest cornering in the industry, and it eliminates stutter bumps. - 120 x 1.25" RIPSAW II Track - Walker Evans® Needle Shocks
Walker Evans® Needle Shocks Premium shocks with compression adjusters and remote reservoirs offer the best in tunability and fade-proof performance. Unique needle design uses hydraulic force at the end of the stroke to eliminate harsh bottoming.
All inventory listed is subject to availability and prior sale. Manufacturer's Suggested Retail Price (MSRP) if shown for a vehicle excludes set-up, freight, taxes, title, licensing or other dealer charges, and is subject to change. Individual prices may vary. Please request a quote for specific pricing.