Inventory
2016 Polaris 600 PRO-RMK® 155
2016 Polaris 600 PRO-RMK® 155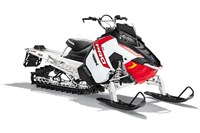 Specifications
ENGINE & DRIVETRAIN
Disc Brake Type
AXYS® RMK® LWT
Drive System Type
QuickDrive™ Low Inertia
Drive/Driven Clutch
P-85 / TEAM® LWT
Fuel System
2 Injector Cleanfire®
Ignition
Multi-Dimensional CDI
Engine Type/Cooling
Liberty/Liquid with Bypass
Cylinders-Displacement (cc)
2 - 599
Bore x Stroke (mm)
77.25 x 64
SUSPENSION
Front Shocks
Walker Evans® Monotube
Front Suspension
AXYS® RMK® Adjustable
Front Track Shock
Walker Evans® Monotube
Front Travel (in./cm.)
9 / 22.9
Rear Suspension
RMK® Coil-Over
Rear Track Shock
Walker Evans® Monotube
Rear Travel (in./cm.)
16 / 40.6
Track Width/Length/Height (in.)
15 x 155 x 2.4 Series 5.1
DIMENSIONS
Fuel Capacity (gallons/liters)
11.5 / 43.5
Overall Height (in./cm.)
49.125 / 124.7
Overall Width (in./cm.)
46.5 / 118.1
Ski Center Distance (in./cm.)
39 - 40- 41 / 99.1 - 101.6 - 104.1
Estimated Dry Weight (pounds/kg)
412 / 186.9
Overall Length (in./cm.)
131 / 332.75
KEY ITEMS
Color / Graphics
White / Red
Electric Start
Option / Accessory
Hand & Thumb Warmers
Std. Adjustable
Heated Passenger Grips
N/A
Seat Support with Luggage
Accessory
Security System
Option / Accessory
Temp/Low Oil Light
Digital MFD
Windshield
RMK® Low, Black
Features
INSTANTANEOUS LIFT
NEW Patented Raised AXYS® RMK® Chassis The AXYS® RMK® features a patented, raised chassis that increases clearance and reduces drag to keep you on top of the snow. This new chassis, purpose built for mountain riding, allows for improved sidehilling, faster and easier climbing, and instantaneous lift allowing the sled to pop onto the snow faster. The carbon fiber overstructure offers reduced weight without compromising strength. New, taller spindles for 2016 increases clearance to reduce drag.
NEW Rear Suspension The new lightweight, rigid rear suspension design features revised geometry to control pitch. This improves weight transfer, delivering better control and a more compliant ride. The rigid suspension delivers power directly to the snow. Off-trail, riders will notice improved weight transfer while maintaining the approach angle. On-Trail, riders will notice a more compliant and comfortable ride. The rear suspension features a new rail design that helps lift the rear skid while driving it forward.
600 Cleanfire® Engine "This liquid-cooled Cleanfire® engine with semi-direct injection (SDI) deliver outstanding throttle response and instant acceleration. These powerful, efficient engines start easily and reliably and they calibrate automatically as the temperature and elevation change. These engines deliver impressive fuel economy in real-world riding situations, which, for Polaris riders, means aggressive, up-tempo riding, not low-rev lab conditions. Now in the AXYS® chassis, the 600 engine features new lightweight integrated mounts, electronic oil pump and bypass thermostat."
Electronic Oil Pump Electronic oil pump eliminates power-robbing gear drive – and provides more precise, improved oil delivery for performance and durability as well as a 35% reduction in throttle effort. Requires no adjustments.
Series 6 2.6" Track The all-new Polaris® exclusive Series 6 2.6" track provides the ultimate all mountain performance. The new lightweight track is designed for improved deep snow and hard pack traction and better lift.
QuickDrive™ Low Inertia Drive System The QuickDrive™ Low Inertia System is designed to make the sled rev quicker for instantaneous lift and reduces rotational inertia by 21% for easier handling and flickability.Not simply a belt-drive, it is a complete lightweight drive system — featuring an extruded drive shaft, lightweight brake, RMK-specific brake caliper and of course the most visible piece of the system — a maintenance-free belt drive that requires no oil or tensioner system. The complete system reduces rotational inertia by 21% which means 5lb. less effort when carving.
Walker Evans® Monotube Shocks PRO-RMKs come standard with Walker Evans® Monotube Shocks. During SnowCheck, there is a choice of a premium Walker Evans® Piggyback Clicker shock or the Walker Evans® Monotube Shocks. The new Walker Evans® Piggyback Clicker Shocks with compression adjusters and remote reservoirs offers the best performance across the broadest range of conditions. The new Walker Evans® Monotube Impact-Extruded Shocks are the lightest weight shock option from Polaris for those riders counting ounces. The one-piece, simple design is lightweight yet durable.
RIDER BALANCED™ CONTROL
Legendary RMK Balance The patented AXYS® chassis delivers the RMK's renowned perfect balance that riders have come to expect. The new RMK offers increased, ultimate control and a more compliant ride.
NEW AXYS® Body Panel Design The AXYS® RMK® features a compact body panel geometry and design that helps give the sled the best lean angle in the industry allowing it to hold even the steepest sidehill lines. RMK does not "Panel Out" like other competitors.
IMMEDIATE RESPONSE
Lightweight Polaris snowmobiles are the lightest sleds on the mountain. Polaris mountain sleds have always been light AND rigid, and for 2016 Polaris has added strength & durability while reducing weight on the RMK® AXYS® platform. Polaris uses design optimization software to analyze the loads and stress points for various systems and components of the snowmobile which allows the team to design lightweight yet durable snowmobiles. Providing riders with instantaneous lift, Polaris sleds help riders get up on top of the snow faster due to the lighterweight, new Polaris-exclusive track designs and the new raised chassis.
Forged Aluminum A-Arms Polaris continuously pursues new innovations and technology, and for 2016 the Polaris® RMK® features an industry-first...forged a-arms. The one-piece, forged a-arms are lighter (approximately 1.5 lbs lighter) while providing optimal strength. Forging is widely used and proven through the automotive industry. This design reduces unsprung mass leading to a better ride quality and increased maneuvarability.
PowderTrac™ Running Boards The PowderTrac™ running boards have been developed for maximum snow clean out and maximum strength. Built from extruded aluminum with bonded cast lugs, they boast an open area of over 50% and integrated traction that is machined in for sure footed performance. For 2016, we continued to refine and improve the running boards. There is now additional open space at the back of the boards by the rear pad to reduce snow build up.
MORE FEATURES
PRO-Lite Seat Mountain snowmobiling requires a different seat design and that is what Polaris delivers. The seat is shorter to allow you to easily swing a leg and hop over from one side of the snowmobile to the other.
LED Lights All models built on the AXYS® platform feature standard LED headlights. LED headlights deliver the industry's best lighting: - Nearly 1 lb. lighter and high beams are 80% brighter than incandescent lighting. - Color temperature or output of the lights (the "whiteness" of light, reported in Kelvin) is 5000K, closely matching daylight. - LED headlights last the entire lifetime of the sled. A major durability enhancement over traditional incandescent headlights which experience filament burn out. - For constant visibility and enhanced safety, the low beams remain on at all times. Even when the high beam is activated, there is never a period of no light.
Mountain Hoop Re-designed for 2016, the mountain hoop is more ergonomic and has been moved down 2.5" to prevent hitting the rider in the chest when in steeper terrain. Now a one-piece stylized design, the mountain hoop is made of a durable polyurethane material.
Brakes New lightweight brakes for 2016 feature a fixed 2 piston opposed caliper design for an improved and quicker braking response and feel. A new, improved brake pad material features higher thermal properties to provide more optimal wear over time.
Polaris Interactive Digital Display Another industry first for Polaris - the most advanced instrumentation in snowmobiling. This 4.3" high resolution, full color, LCD digital display provides a rider with information including: - Sled performance: Speedometer, tachometer, dual tripmeters, & odometer - Sled operating conditions: Fuel level, coolant temperature, diagnostics & maintenance warnings - Riding conditions: Time of day, Day/Night mode - Bluetooth™ functionality: Enables the display to communicate with the rider's cell phone and provide notification of incoming calls or texts. Battery, signal strength. - GPS / Mapping Capability: A compass and full-featured GPS comes standard when the GPS receiver is installed. Latitude, longitude, and elevation are displayed, along with the ability to mark and save waypoints and tracks. - Vehicle Immobilizer and security function allow you to lock your vehicle with a passcode. - Software can be upgraded during the life of the vehicle, so your display will never become outdated. - Screen options can be customized to suit rider preferences. This display is an option for SnowCheck Select 2016 and is also available as an accessory option for all AXYS® models as well as PRO-RIDE™ models when used with the accessory Defrost Bag.
Integrated Storage Solutions Optional, accessory storage was designed and developed right along with the RMK® AXYS® platform, so it installs securely and features seamless, integrated styling that matches the sled's design lines. Polaris Engineered with the highest quality of materials.
All inventory listed is subject to availability and prior sale. Manufacturer's Suggested Retail Price (MSRP) if shown for a vehicle excludes set-up, freight, taxes, title, licensing or other dealer charges, and is subject to change. Individual prices may vary. Please request a quote for specific pricing.